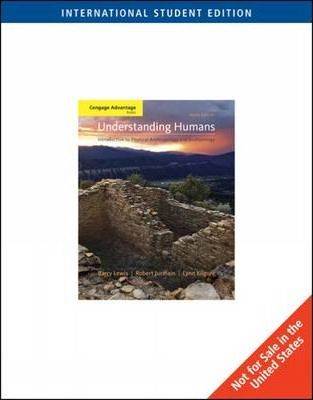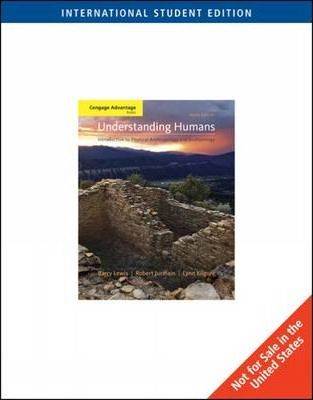 Understanding Humans 10E ISBN 9780495604174
Understanding Humans : An Introduction to Physical Anthropology and Archaeology 10E ISBN 9780495604174 | By Barry Lewis , Robert Jurmain , Lynn Kilgore | 10ed©2009 | Paperback | 512 pages
รายละเอียดสินค้า Understanding Humans 10E ISBN 9780495604174
Descriptions :
UNDERSTANDING HUMANS : INTRODUCTION TO PHYSICAL ANTHROPOLOGY AND ARCHAEOLOGY, International Edition shows students how anthropologists and archaeologists go about their work as they study human evolution, living nonhuman primates, human adaptation and variation, the origin and dispersal of modern humans, food production, the first civilizations of the Old and New Worlds, and so much more. At a Glance sections and Focus Questions help students better understand the material and study more effectively for exams.
Table of contents :
ANTHROPOLOGY.
1. Introduction to Anthropology.
HEREDITY AND EVOLUTION.
2. The Development of Evolutionary Theory.

3. Heredity and Evolution.

4. Human Variation and Adaptation.

5. Macroevolution: Processes of Vertebrate and Mammalian Evolution.
PRIMATES.
6. An Overview of the Primates.

7. Primate Behavior.
PALEOANTHROPOLOGY/FOSSIL HOMININS.
8. Understanding the Past: Archaeological and Paleoanthropological Methods.

9. Hominin Origins.

10. The First Dispersal of the Genus Homo: Homo erectus and Contemporaries.

11. Premodern Humans.

12. The Origin and Dispersal of Modern Humans.
ARCHAEOLOGY.
13. Early Holocene Hunters and Gatherers.

14. Food Production.

15. The First Civilizations.
Appendix A: Atlas of Primate Skeletal Anatomy.
Appendix B: Summary of Early Hominin Fossil Finds from Africa.
Appendix C: Population Genetics.